SKINFOOD: We are down to the last remaining days of the year 2020 and we want you to leave this challenging year with beautiful and glowing skin! It has been a rough year for us especially with the pandemic that has been going on but most people took the extra time to focus on our well-being.
Korean beauty became one of the highest beauty standards. Not only that it's hard to achieve but also because it works like magic to keep the skin clear and smooth. There are no secrets to achieve it, what makes it hard is because we weren't raised the same way and their genes are amazing.
People from different parts of the world went crazy for Korean beauty products because it's mostly made with natural and non-irritating ingredients. There's one unique K-beauty brand called SKINFOOD that produces food-based beauty products that surprisingly earned a cult following.
Here is a list of their best-selling products you should try before the year ends.
Royal Honey 100 Hour Moisture Cream
We're sure you have seen a lot of honey infused products scattered around beauty shops. Honey is indeed a powerful ingredient that contains antibacterial and moisturizing properties. It is said to be highly beneficial for people with skin conditions such as psoriasis.
This moisturizing cream is infused with aged honey which is much richer than normal honey. It nourishes the skin while diminishing any signs of skin aging. It also contains royal jelly which contains numerous nutrients and vitamins that stimulates collagen production. It also strengthens the skin's barrier while soothing and providing deeper moisture.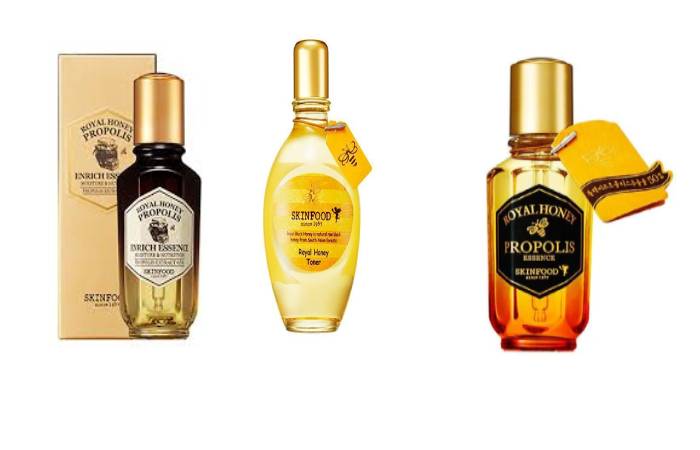 Egg White Perfect Pore Cleansing Foam
Everyone knows that egg whites are a great source of protein. While it's healthy for your body, it can also provide the skin with a lot of benefits. It is a famous DIY skincare mask that brightens the skin and tightens the pores.
This gentle cleanser is infused with albumen that effectively tightens any visible pores while deeply penetrating through the pores to remove any excess sebum and makeup residue. It also promotes firmer and smoother skin when used continuously.
Vege Garden Mask Sheet
Of course, SKINFOOD would not forget about vegetables that make us healthier as we consume them. These vegetable-infused mask sheets are refreshing and soothing because of the Vege-Calming Complex (a mixture of different vegetable extracts). It comes in 10 types that offer different purposes starting from brightening to revitalizing, they've got it all! It is also made with plant-based cellulose sheet which is known for effectively providing nutrients to the skin.
Avocado and Olive Lip Balm
Two of the healthiest food in the world combined into one balm to nourish the lips. It contains powerful moisturizing properties that will make your lips look healthier than ever. It can also minimize dead skin cells on the lips. It comes with MoistPlus™ for long-lasting hydration. It is very affordable and it comes in cute avocado-shaped packaging.
Sun Flower No Sebum Sun Gel
Sunflower seed oil is a famous ingredient rich in vitamins and nutrients good for our skin. It offers moisturizing and moisture retention properties, and vitamins A, C, D, and E. It can also effectively soothe troubled and irritated skin.
This sun gel boasts a broad spectrum SPF50+ PA++++ along with its moisturizing and soothing properties. It is lightweight yet offers powerful protection without leaving a sticky and heavy feeling upon application. It also dries out fast and does not leave any white cast.
Black Sugar Perfect Scrub Foam
A cult-favorite scrub that offers gentle exfoliation for squeaky clean and smoother skin! It contains fine black sugar granules that remove impurities and dead skin cells to make the skin look brighter and healthier. It can also get rid of the stubborn blackheads and pore-clogging sebum to avoid acne build-up. It is budget-friendly but it's highly effective. If you loved this product, you can also check out SKINFOOD's Black Sugar Line.
All in all,
A year looks longer when you think about how many hours and days to complete it but it passes by so quickly. Don't get discouraged easily when you don't see any improvements because some skin types require a longer time to improve and that's okay. Be patient and stay committed to your skincare regimen, it will pay off. We wish you a fun-filled holiday season!
MORE INFO:- beamtrends