As age comes knocking, it brings along wrinkles and other signs of aging. Because of this, most people have been researching effective ways to keep their skin young and glowing. Due to this high demand for anti-aging treatments, skin specialists and doctors have developed just that.
Among the most effective anti-aging skin treatments is Halo laser treatment. This treatment corrects wrinkles and other signs of aging while taking care of other skin conditions like hyperpigmentation and spots. Additionally, this treatment is ideal for people of all ages and skin colors. With that in mind, it's vital to note that Halo laser treatment isn't necessarily exclusive to older people but to anyone who wants to enhance their appearance.
If you're considering this treatment, here's what you need to know:
1. It Is One Of A Kind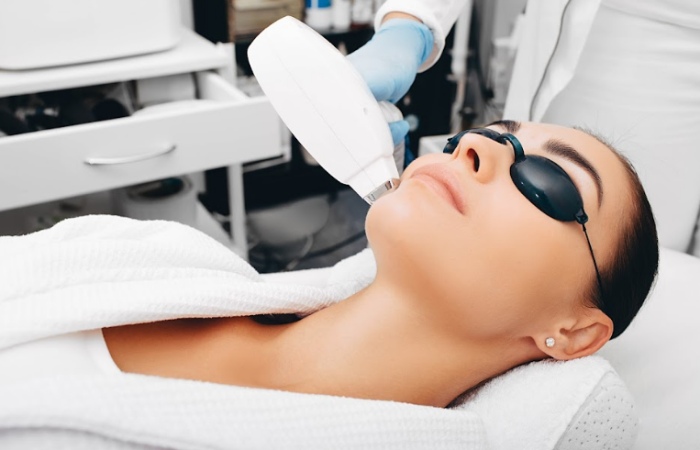 Halo laser treatment is a pro-fractional treatment that involves targeting a skin fraction around the treatment area. For this reason, this treatment is comfortable and quick to heal. Nevertheless, there are other pro-fractional laser treatments. But what makes Halo laser treatment one of a kind? With Halo™️ hybrid fractional laser, it's possible to treat both the exterior and sub-exterior skin layers simultaneously.
It's common for patients looking forward to enhancing their appearance to require more than one type of skin treatment. For example, a patient might require ablative treatment to smoothen and renew the exterior skin and non-ablative treatment to take care of the sub-surface skin. The Halo laser treatment is adjusted to fit the patient's requirement in such a case.
2. It Is Ideal For All Skin Types, Regardless Of Complexion
Most laser treatments are ideal for individuals with lighter skin complexions. This is because laser treatments focus on visible skin conditions, which might not be easily visible on people with darker skin color. However, Halo treatment is different.
Since Halo treatment uses motion-tracking technology to examine your skin before the treatment, it scans and targets conditions deep within the external skin layer. As a result, this treatment addresses skin imperfections that are challenging to identify using the naked eye. Hence, becoming more effective and ideal for individuals of all ages, skin types, and complexions.
3. It Treats More Than Wrinkles
While Halo laser treatment is known for its positive effects on wrinkles and signs of aging, the treatment doesn't only address that. The Halo laser can also treat discolored and uneven skin, repair sun damage and scarring, enlarge pores, and enhance skin texture. However, it's vital to note that the result will depend on the amount of treatment you've undergone and the severity of your skin condition. Nevertheless, many patients report positive effects after a single treatment.
4. Results Show In A Few Days
Human skin undergoes a bronzing stage every few days. At this point, the skin peels to pave the way for a new, healthy layer beneath. If you've had a Halo laser treatment, the underneath layer will appear without scars and colored spots. Therefore, the first sign will be visible five to seven days after the treatment.
Even after the first sign of improvement after several days, you'll continue to experience positive effects in pigmentation, tone, and texture. It's vital to note that the results will continue showing as your skin regenerates in the following months. Generally, the results might last a year if you keep your skin unexposed from UV rays.
5. The Treatment Results In More Dramatic Effect
Due to Halo's unique technology, the treatment might resurface over 30% of your skin. On the other hand, most gentle laser treatments resurface only 5%. The Halo treatment results will be dramatically more noticeable than other laser treatments.
6. The Treatment Is Painless
The saying 'no pain, no gain' doesn't apply to Halo laser treatment. According to most patients, the treatment feels slightly warm and tingly. For additional comfort, a topical anesthetic is used before the treatment.
7. You Will Feel A Minor Discomfort After The Treatment
After the treatment, most patients complain of burning-like discomfort. The discomfort might last several hours, while the swelling following the treatment lasts two to three days. Therefore, adhering to post-treatment care to heal fast is essential. For example, you should avoid applying makeup for not less than 24 hours after the treatment. It would be best if you also avoided sunshine throughout the healing process to avoid complications.
8. The Treatment Sessions Do Not Take Long
Depending on the Halo laser treatment's results, you might think the treatment lasts for hours. However, this isn't the case. In most cases, the treatment lasts for an hour per session. With that in mind, you don't need to deprive yourself of a gorgeous face for fear of prolonged treatment.
Conclusion
Halo laser treatment is ideal for all age groups, skin types, and colors. It corrects wrinkles, skin hyperpigmentation, and spots. Halo treatment isn't painful and lasts for a few minutes per session. With the above information, you now understand what the treatment entails and can make an informed decision about whether to undergo it or not.