The wedding day is of particular importance for all girls. Besides, girls have many dreams about their wedding dresses. So every girl wants to wear a unique dress on a big day like this. In this sense, the wedding machine embroidery blouse designs are exceptional.
Moreover, a wedding machinery embroidery blouse designs with paithani zari work, French knots and unique patterns will always be comfortable and eye-catching at the wedding.
We have collected some beautiful machine embroidery work blouses designs for the most important day of your life. There is a wide range of colorful, charming and trendy embroidered neck designs for bridal blouses.
Wedding Machine Embroidery Blouse Designs – 2022
Let's take a look at machine embroidery blouse designs for weddings. The traditional red color with new machine embroidery has become the first choice for girls when choosing wedding dresses.
So these latest bridal blouse designs feature floral motifs and beautifully embroidered Ammar veils. And there are also work designs and prints on the front, shoulders and back.
The traditional red color with new machine embroidery has become the first choice for girls when choosing wedding dresses.
On the other hand, the wedding machine embroidery blouse designs come in different styles and types, but choosing just one to wear with your saree embroidery designs is tricky.
So to make it a little easier for you to choose the perfect one, I have selected the best embroidery blouse designs in different styles for blouse design inspiration.
So let's jump into the fantastic world of wedding blouse designs.
1. Blouse designs with cutwork embroidery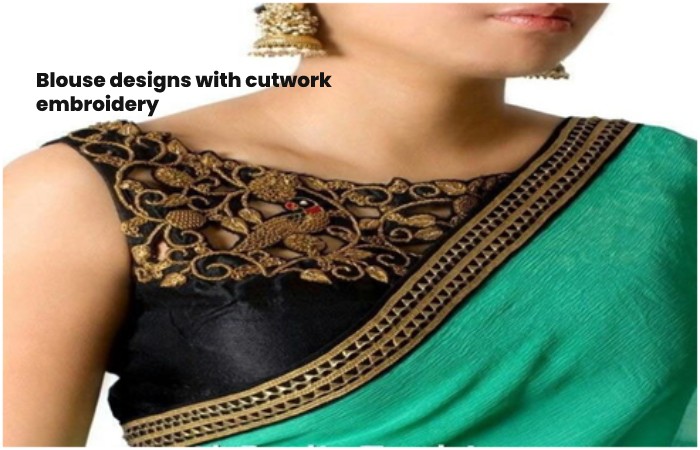 Cutwork embroidery designs are those where beautiful patterns are created by cutting fabric sections into a design.
These wedding machine embroidery blouse designs done on the bodysuit, neck or even sleeves, and these blouses are worn with anything, including silk and chiffon saree with zari work!
2. Blouse designs with Gota Patti embroidery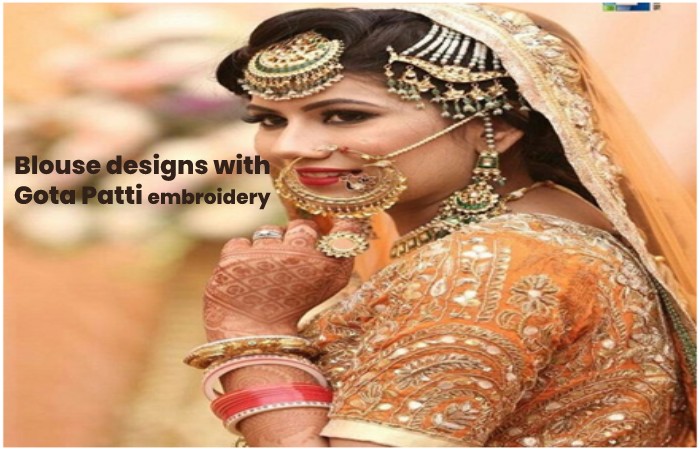 Gota Patti embroidery has seen a boom in wedding wear due to its brilliance and enchanting beauty. And this wedding machine embroidery blouse designs can used to wear with gota work sarees! While the drop Patti is most common in wedding lehenga blouse designs for girl.
3. Blouse designs with lace embroidery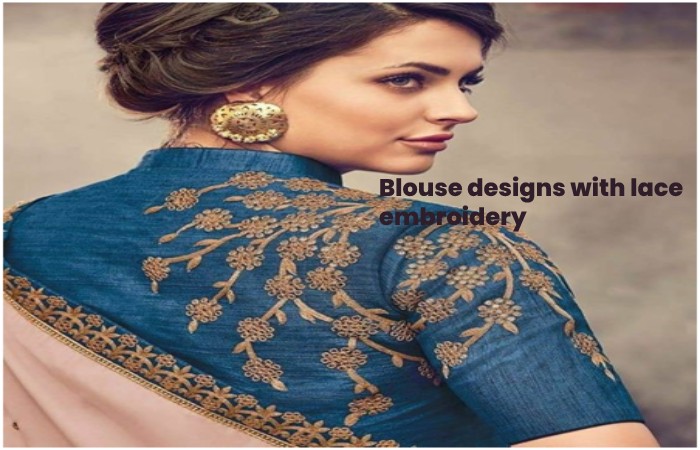 The lace blouse embroidery is delicate and has a touch of elegance. So use this  simple blouse back neck designs images and wedding machine embroidery blouse designs as inspiration to design your next lace blouse to wear with your favourite saree.
4. Latest blouse designs with thread work embroidery
Embroidery patterns for blouses with thread are versatile. So they range from machine embroidery to delicate different blouse hand designs or simple hand embroidery designs can wear with literally any style of saree or modern lehenga designs. And from wedding machine embroidery blouse designs to complex and intricate embroidery marriage lehenga design, you can create a modern or even traditional design to suit your style.
5. Maggam blouse embroidery designs for pattu sarees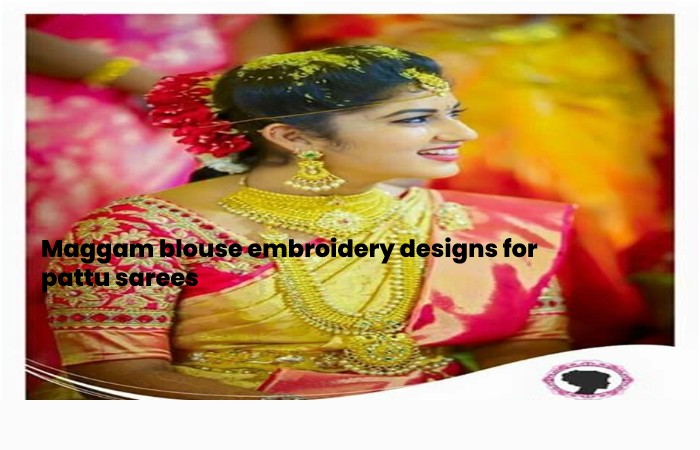 Maggam work designs simple blouses are undoubtedly one of the best simple blouse designs for pattu sarees. Also, latest maggam work blouse designs embroidery done with zari gives it a heavy, festive look! Also, Maggam wedding machine embroidery blouse designs are all the rage in the bridal world.
6. Maroon Embroidery Designs Blouse For Marriage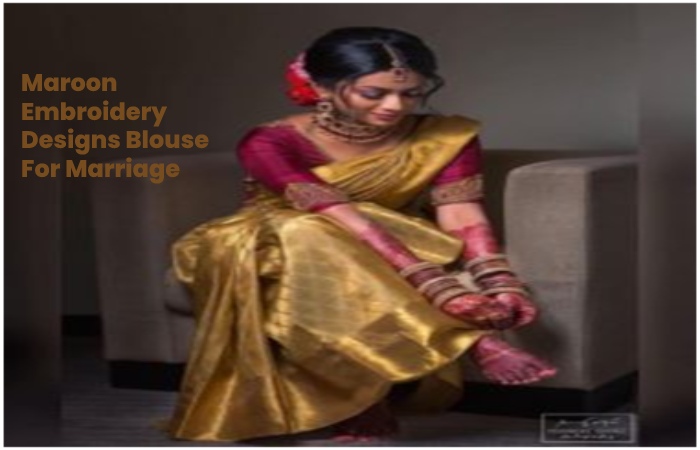 The maroon work blouse goes best with light-coloured sarees. If you want to look regal and sophisticated at your wedding, pair this wedding machine embroidery blouse designs with your solid pink silk sarees or golden silk saree for wedding.
7. Beautiful simple stone work blouse neck designs Stone for Brides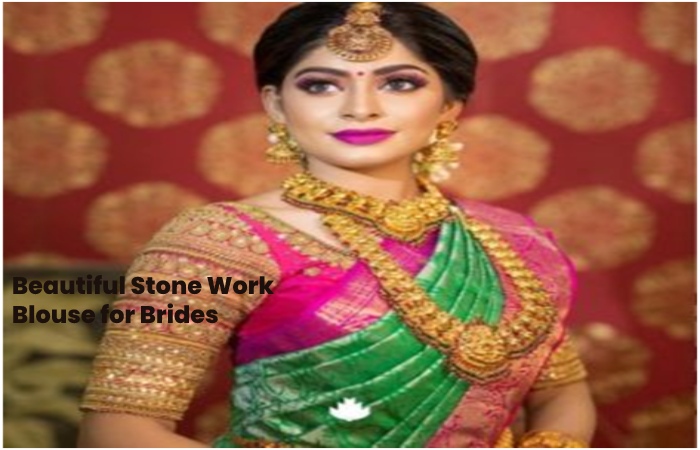 This simple stone work blouse neck designs and wedding machine embroidery blouse designs speaks for itself. So the heavy stonework on the sleeves is striking and beautiful. Besides, the blouse gives a heavy and rich look to your heavy embroidery saree.
8. Peacock embroidery designs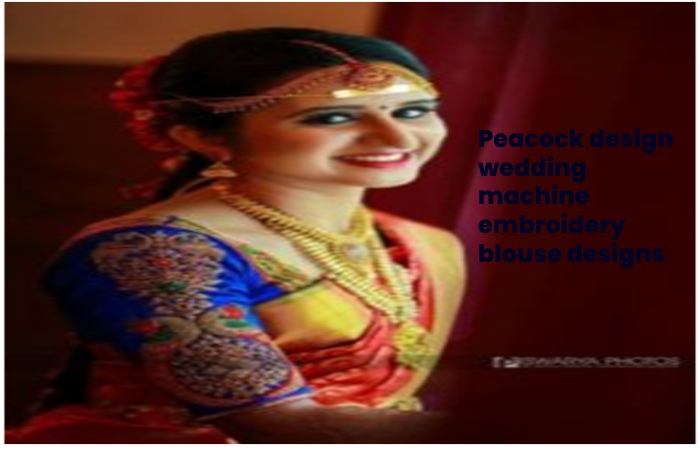 What could be better than a peacock inspired bridal bodice design? The peacock thread work goes up the sleeves and makes all the blouse sleeves look beautiful and this blouse sleeves designs images will be helpful while making a perfect selection. The little maggam work at the neckline adds another layer of beauty.
9. Pearl blouse embroidery designs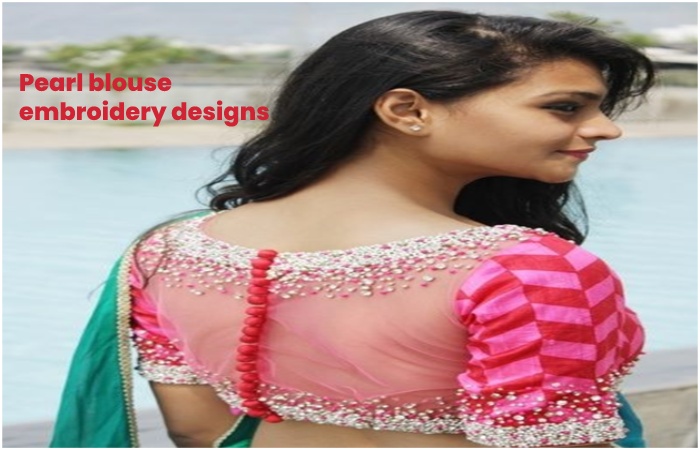 Pearl and gem embroidery blouse designs are new on the wedding block. And many brides have started opting for beaded neckline blouses with their mesh chiffon saree!
10. Zardosi wedding blouse designs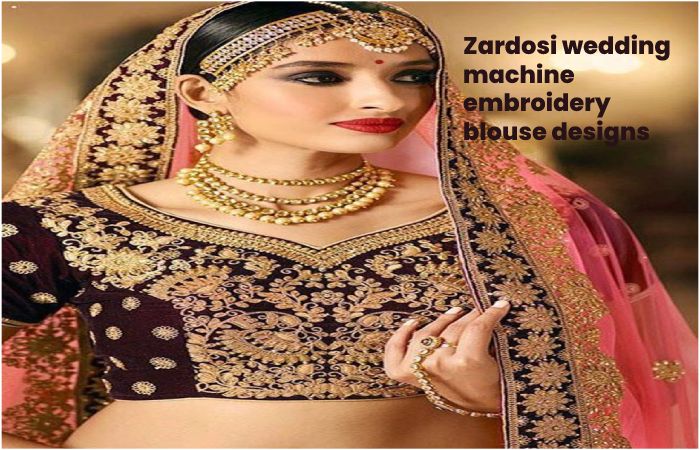 Zardosi is timeless. This lavish wedding machine blouse designs is perfect for wedding flourishes. So make a Zardosi blouse embroidery design to wear with your silk saree and wait for the compliments!
Wedding Blouses Work Designs 2022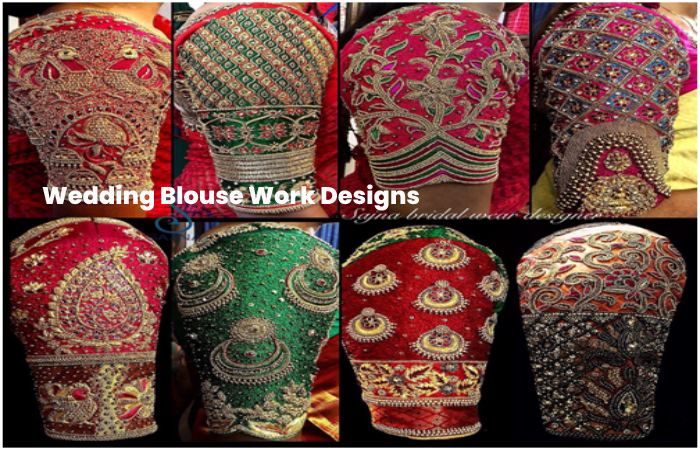 This collection of blouse designs includes wedding machine embroidery blouse designs and simple aari work designs images. Zarri's work and paithani technique on red bridal blouses are charming and unique.
Bridal blouse designs have both traditional and modern work designs. This collection of blouses ranges from the latest red bridal blouse designs to traditional machine embroidered wedding blouses.
Red Blouse Wedding designs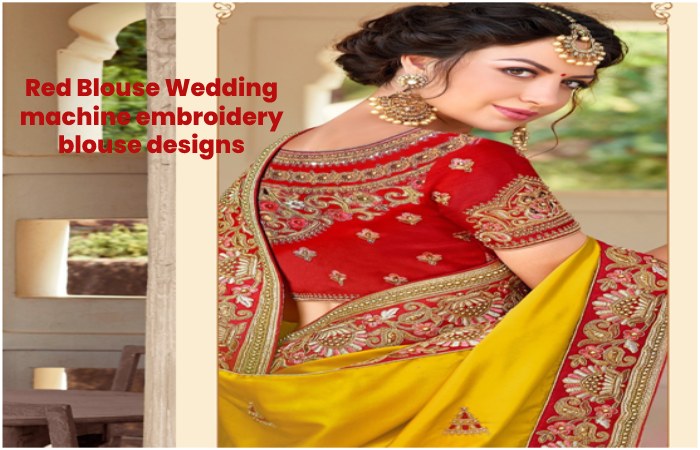 A state-of-the-art wedding machine embroidery blouse designs of red blouse is always any girl's first choice for a wedding dress. And the creation of the red bridal blouse with different prints and necklines is always a sight for sore eyes.
When decorated with elegant sleeves and work designs, the red bridal blouse back design becomes every girl's first choice.
The red bridal blouse with traditional floral motifs and warm veil designs is also the desired choice for all girls for their wedding. So our collection of red blouse embroidery work consists of all the above work designs and machine work patterns. However, golden saree with red blouse is always a perfect choice for wedding wear.
Cut work sarees images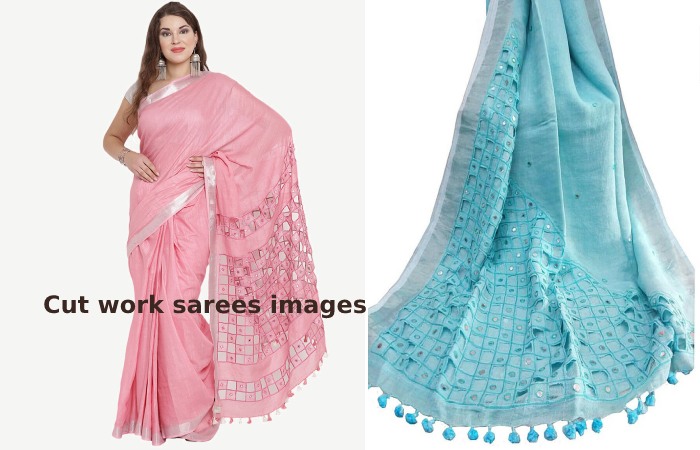 Final words
Hopefully, the top collection of wedding blouse embroidery designs will fulfil your desire to look more beautiful on your special day in the life. So if you have any questions, please also send a message in the comment box.
Related Searches
machine embroidery blouse designs images new
 simple machine embroidery designs for blouse back neck
machine embroidery blouse designs with price
peacock machine embroidery blouse designs
latest machine embroidery blouse designs
machine embroidery designs for silk blouse
simple machine embroidery blouse designs
machine embroidery designs for blouse back neck
hand embroidery designs
Peacock embroidery blouse designs
latest blouse hand designs 2021
new blouse designs 2021
lehenga for wedding guest
pattu blouse back neck designs
lehenga ka blouse design
blouse back neck designs for silk sarees images
full hand blouse designs for silk sarees
lehenga full blouse designs
different types of blouse back neck designs latest