Lyme disease can lead to chronic arthritis and facial palsy starting from a small rash if not treated. It is the most common vector-borne disease spread by ticks in the USA, according to the CDC.
The disease was more prominent in the Northeast of America till 2015. But by 2017, ticks started to expand their territory to the southern and western USA. More than 300,000 cases of Lyme disease are reported in the USA every year, as reported by the Center for Disease Control & Prevention.
It is a bacterial disease that requires two steps diagnostic procedure to be detected. If you are suspicious that you have the infection, you can contact any near-by ELISA and Western blotting services. These two are the most common methods employed to confirm if you have been a victim of a tick or not.
But before, let's have a deep insight into what is this disease and to what extent it can harm you?
What is Lyme Disease?
It is a bacterial disease caused by the bacterium, Borrelia burgdorferi. It does not directly infect humans. Ticks carry these bacteria and infect humans by biting them. Thus, it is a vector-borne disease.
The infection starts with mild symptoms such as fever or headache. However, if left untreated can lead to severe joint pain and neurological disorders.
But the problem is that it has symptoms familiar to other diseases to be detected. The more profound indication of Lyme disease is skin rash. If you have a big round skin rash, there are 99% chances that you are infected by Borrelia burgdorferi.
What are the Symptoms of Lyme Disease?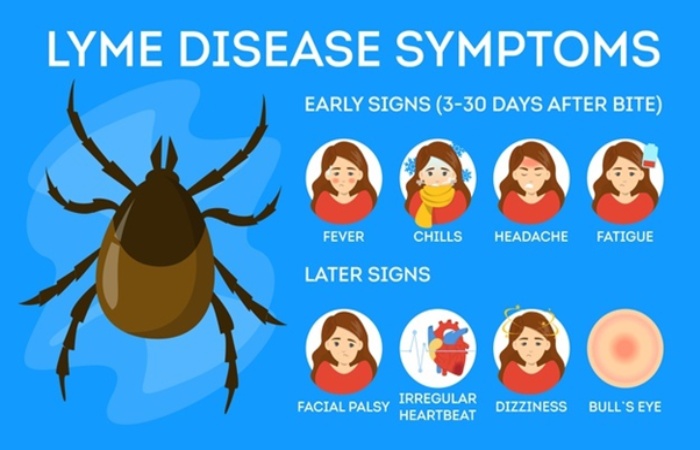 The vector-borne disease can lead to a wide range of symptoms. The early symptoms can be mild acute fever, and untreated chronic signs include facial paralysis.
The early symptoms start from fever, headache, and fatigue.
If kept untreated rash starts to begin. The rash is localized in the initial stages. But it starts spreading to other parts of the body.
Severe symptoms include facial paresis, is paralysis of facial muscles, and weakening of facial muscles.
With increasing infections, symptoms overlap and can result in joint pain, severe swelling, and arthritis.
These are primary signs that reflect that you can have Lyme disease.
Now you may feel that these are common symptoms, and it is difficult to predict that these can result in a serious ailment such as neurological disorders or facial palsy due to a tick bite.
Diagnosis & Testing:
You can see that symptoms of these bacterial diseases are similar to many other health conditions hence, it needs a thorough diagnosis.
The first thing that a doctor looks for is how likely the person has chances to be bitten by the black-legged tick. More often, a person who does camping, trekking is more susceptible to ticks.
However, sometimes infection may take time to show up, and it becomes hard to find the actual reason for the sickness. Then doctors look up to other possible causes for the symptoms and the patient's medical history.
After that, the health care staff goes for clinical testing. The infection is tested for the antibodies formed in response to the antigens produced due to bacteria. Because antibodies take time to form CDC suggests a two-step testing process for the determination of the disease.
The most common type of test employed to detect the tick infection is ELISA & the western blotting technique.
It is recommended that if the report of the first step is negative, further testing is not required. However, if the first test comes positive or does not give clear indications, the second test is suggested.
Erythema Migrans: Tick Rash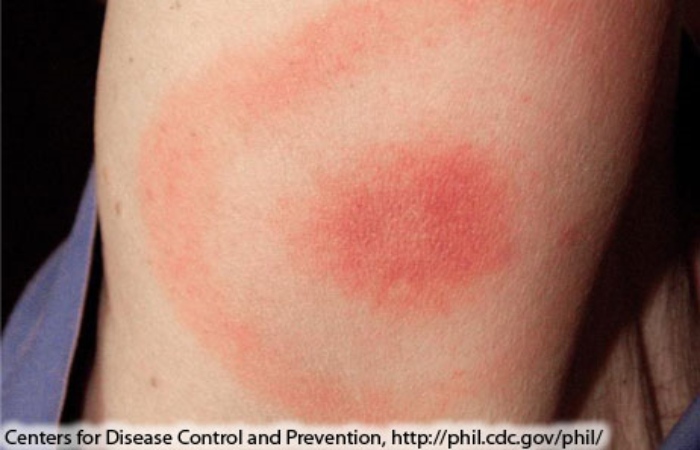 Laboratory testing is important, but if the symbolic tick rash, "erythema migrans" appears, it is clear that the person has Lyme disease.
It is a big round rash of diameter 2.5 to 3 inches. Its edges may be swollen or maybe not. 70 – 80% of infected people have this rash.
It can appear anywhere on the body, not necessarily where the person has been bitten.
Most often rash appears in the first four weeks of infection, but it can take up to 90 days in some cases. It is seldom itchy or painful but may feel warm to the touch.
Treatment:
Lyme disease is curable. The standard treatment includes oral antibiotics like doxycycline. Depending upon the condition, medical practitioners prescribe a 14-days or 21-days course of antibiotics.
However, if the infection has reached neurological disorders. Then, it needs intervenous medicines for a course of up to 21 days.
Conclusion:
Lyme disease is a vector-borne disease caused by the bite of ticks. The causative organism is Borrelia burgdorferi, a bacterium residing inside of a tick.
It has symptoms like headache, fatigue, muscle pain, but chronic conditions can lead to neurological disorders and facial palsy.
Yet, the condition is curable with a definite prescribed course of antibiotics.
KNOW MORE:- advancedtechn