What is Liquid Chlorophyll?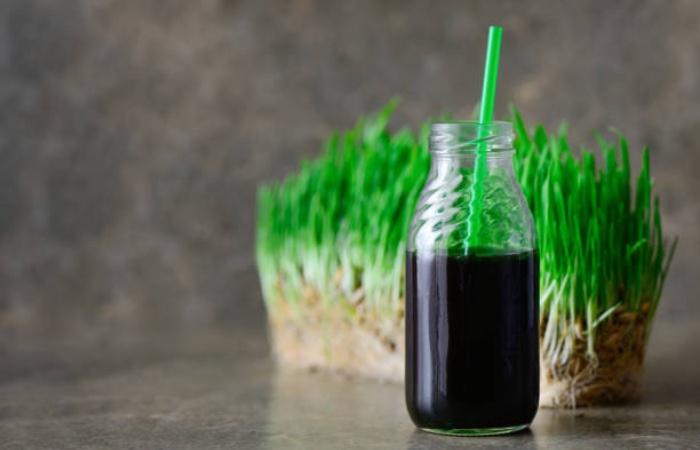 Chlorophyll is a substance that allows plants to be green and healthy and helps in photosynthesis for the formation of nutrients for plants by absorbing sunlight to convert it into energy. Additionally, it contains vitamins and antioxidants, particularly vitamins A, C, and E, which have therapeutic benefits for the body.
Chlorophyll is vital for a plant's survival, but it also allegedly provides several advantages for human health. For instance, liquid chlorophyll is a well-liked dietary supplement that purifies the body, stimulates the immune system, increases energy, and does other things.
Liquid  Chlorophyll supplements are made with chlorophyllin, which has copper instead of magnesium. This chlorophyllin has numerous health advantages and similar characteristics to chlorophyll. Many health benefits are attributed to it:
Strengthen the immune system
Eradicate fungi from the body
Cleanse the blood of toxins
Purify the intestines
Eliminate bad odours
Provide energy
Prevent cancer
The following are some of Liquid chlorophyll's unique properties :
Antioxidant: Chlorophyll is a potent antioxidant for human health due to its high vitamin A, C, and E content.
Anti-inflammatory: Because of its anti-inflammatory effects, chlorophyll is a crucial component of some arthritis treatments. Liquid Chlorophyll works to stop the spread of inflammations brought on by specific bacteria.
Detoxifier: You should know that chlorophyll is the ideal substance if you're seeking natural treatments to aid in oxygenating your whole body (including your blood and cells). Thus, we might conclude that chlorophyll enhances organ performance.
Deodorant: It should be noted that chlorophyll also fights bacteria in the mouth and favours better breath.
What are the Health Benefits of Liquid chlorophyll?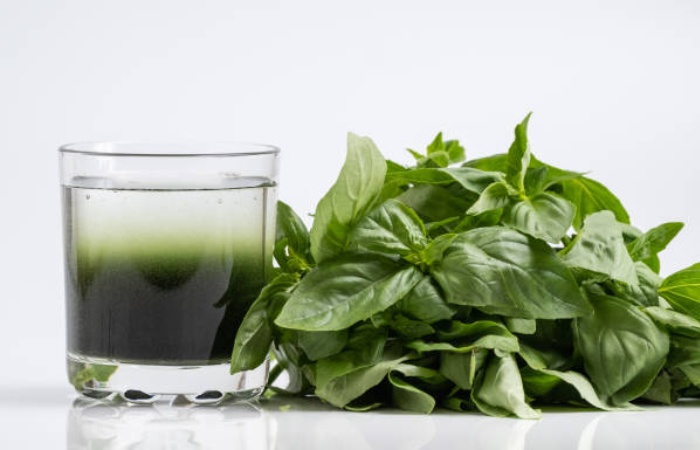 Researchers are continuously exploring the past to find how chlorophyll benefits health and wellness.
Liquid chlorophyll contains numerous benefits. However, there is not enough proof to hold every claim. "So include the food source, such as leafy greens and sea vegetables, recommended by Clairmont.
Let us look at what studies have found so far.
Skin healing
Blood builder
Cancer and detoxification
Weight loss
Natural deodorant
Skin Healing
Chlorophyll helps reduce acne and bacterial growth in the wounds of the skin.
In addition, it can be effective for various skin conditions, as shown by the outcome of 2 pilot studies.
A pilot study is a groundwork carried out before a wider study.
A 2015 pilot study that included 10 people with acne and large pores experienced skin improvement when chlorophyllin gel was used for almost three weeks.
Another 2015 pilot study involving 10 people found some positive results by using topical chlorophyllin almost for 8 weeks has improved sun-damaged skin.
Blood Builder
Few people propose that liquid chlorophyll helps improve the red blood cells to build your blood.
As evidence, a 2004 pilot study advises that wheatgrass contains approximately 70% chlorophyll, reducing the blood transfusion needed by people with thalassemia, a blood disorder.
Indeed, it is essential to note that the researchers didn't conclude that chlorophyll was the reason for the decrease in transfusions.
Dr Chris Reynolds, Managing Director & Medical Adviser at Wheatgrass Pty. Ltd. Australia, a medical expert in wheatgrass, trust that benefits might be from wheatgrass rather than the chlorophyll.
However, it is still not certain by what method the wheatgrass affects the blood cells. But it is assumed that chlorophyll will be destroyed during the production process of wheatgrass.
Cancer and Detoxification
Scholars notice the effect of chlorophyll on cancer disease.
Moreover, an animal study in trout noticed that chlorophyll decreases liver tumours by 29 to 63 per cent and stomach cysts by 24 to 45 per cent, depending on the dose.
A 2018 study determined the effect of chlorophyll on the development of pancreatic cancer cysts.
Although the outcome of animal studies was very assuring, there have been recent human trials.
A narrow study of 4 volunteers found that chlorophyll restricts the consumed aflatoxin, a compound that causes cancer.
In addition, a medical test in China found the effects of chlorophyll on liver cancer, as per the Internation Business Times.
On the other hand, chlorophyll-rich diet testing also planned how it affects colon cancer risk. Besides, the diet consists of more intake of leafy vegetables such as spinach and parsley.
Weight Loss
One of the prominent claims of chlorophyll is supporting weight loss. But the research on this is incomplete.
A study carried out in 2014 showed that around 38 females who had taken green plant supplements, including chlorophyll, once daily had better weight loss compared to the group that didn't take the supplement.
On the other hand, the researchers also recommended that the supplement reduces unsafe cholesterol levels. But the findings are not sure whether it contains chlorophyll.
Natural Deodorant
Chlorophyll has been used since 1947 to reduce certain odors.
But the latest study has shown involving people suffering from trimethylaminuria, a situation that causes a fishy smell, chlorophyll decrease the number of trimethylamines,
As far as statements about chlorophyllin reducing bad breath, there's not enough evidence to support it.
What are the Side Effects? – Medications, Get Help, and More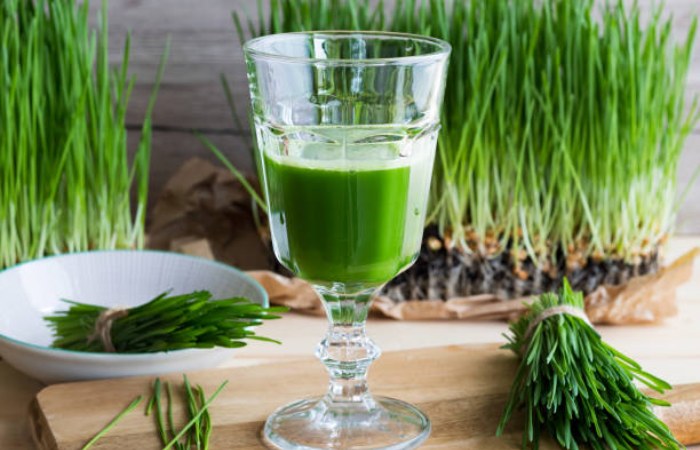 Introduction
Age, the usage of other medications, vitamins, or dietary supplements, as well as other underlying diseases or disorders. It can influence who has side effects when taking a drug and who does not (for example, diseases that weaken the immune system or affect the kidneys or liver function).
Drowsiness, dry mouth, and upset stomach are typical side effects. Serious side effects include those that cause congenital disabilities, hospitalization, impairment, or life-threatening situations. They also include those that result in death, life-threatening situations, hospitalization, or permanent harm.
When a Side Effect Occurs?
If you have a side effect, you might be able to reduce or get rid of it. Consult your doctor to determine whether changing the drug or the dosage will lessen or eliminate the adverse effect. However, your doctor might also advise trying different things, such as altering your food or lifestyle.
Begin using a new medication or nutritional supplement (for example, vitamins)
Stop using a medication you've been taking for a while, or change the dose (amount) of the one you already take.
Which medications are prone to side effects?
All medications can have side effects. It includes prescription and OTC medications from a pharmacy, grocery store, or other stores. The same is true of herbal, complementary, alternative, or natural medicines, as well as vitamins and minerals.
Although side effects are possible with any medication, not everyone will experience them.
How to get help if you have side effects?
Visit your doctor or the hospital immediately if you believe you may be experiencing a significant side effect. Call triple zero if there is an emergency (102).
Dial 108 anytime or night to reach the Poisons Information Centre if you have taken too much medicine.
Speak with your doctor or pharmacist if the side effects are affecting you but there is no immediate danger. However, you can also dial 108 to reach the medical helpline.
How To Use Liquid Chlorophyll?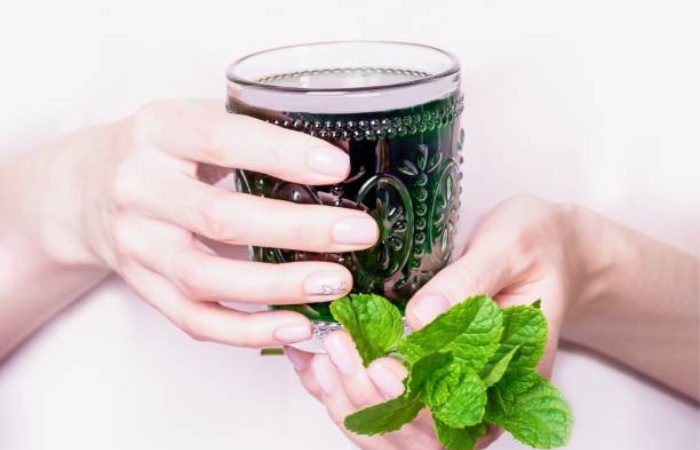 You can use chlorophyll in many ways. A few are mentioned below:
Add 1 tablespoon of liquid chlorophyll to a glass of water. Keep in mind that the average amount is 100mg per serving.
You should try the one with mint and add lemon and water, and ice! It is so refreshing & delicious! The body odour has improved incredibly after a month.
Put a dropper full of chlorophyll (liquid) in half a litre of water and drink every morning.
You can make liquid chlorophyll at Home using green leafy vegetables, organic avocados, parsley leaves, and raw spinach containing nearly 25 gms of chlorophyll.
Liquid Chlorophyll Supplements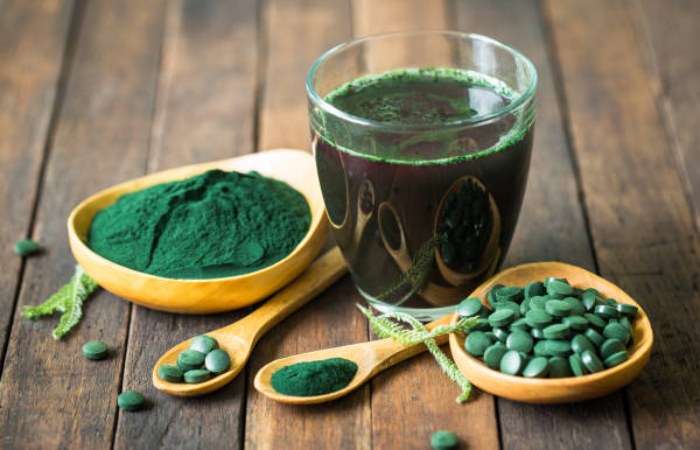 We all know that eating greens in daily life is essential; also, we can extract the green and take it as Liquid chlorophyll Supplements for fantastic health benefits.
Chlorophyll is the green plant's pigment used to make food during photosynthesis. The plant is an amazing source of chlorophyll, including herbs or vegetables like arugula, green beans, parsley, spinach, leeks, wheatgrass and spinach.
Liquid chlorophyll Supplements are easy and better than tablet form. Also, our body absorbs it quickly. But before trying Liquid chlorophyll Supplements, we should consult a doctor as it can lead to a few side effects.
Liquid chlorophyll Supplements claim that they are multiple benefits of chlorophyll, such as preventing the risk of cancer, healing skin diseases, giving good weight, Increasing the count of red blood cells and decreasing inflammation. Also, according to studies taking Liquid chlorophyll Supplements regularly is very helpful in reducing brain tumor that deals with human body cells.
Liquid chlorophyll Supplements are of two types.
Type 1: Chlorophyll Supplement, which is called chlorophyllin. It is the version made by human beings.
Type 2: Liquid chlorophyll Supplements are made with a mixture of sodium copper chlorophyllin and salts.
What are the Side Effects of Using Liquid chlorophyll Supplements?
Liquid chlorophyll Supplements are not harmful. But there can be a few risks, such as:
Stomach Problems
Burning sensation on applying it
Vomiting
Body Itching
Bloating
Intestine Problems
Hard Black, Green stool
Bleeding
Nausea
Liquid chlorophyll Supplements Forms
Ointments
Foam
Tablets
Tube
Liquid
Sprays
Is Liquid chlorophyll Supplements Safe?
According to studies and research, taking Liquid chlorophyll Supplements is safe for Adults and children above 15 years of age who can take 100 mg to 150 mg daily. Consuming Liquid chlorophyll Supplements over 300 mg can lead to few side effects.
Does Liquid chlorophyll Cure Cancer?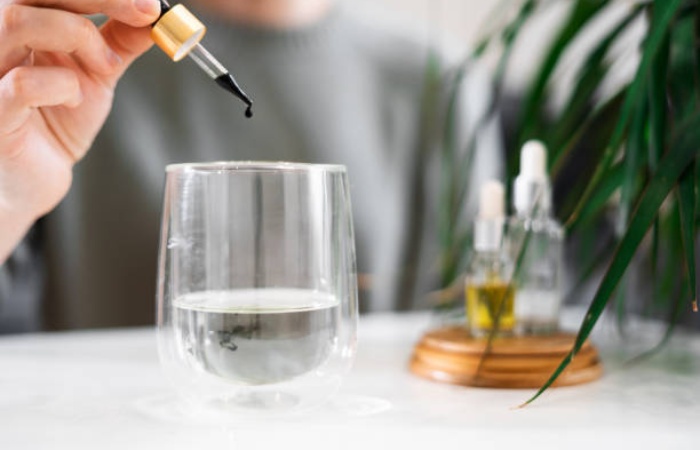 Yes, it helps to cure Cancer disease, with the growing number of cancer patients in the present times, Chemotherapy is essential. But the treatment is tough, it causes the body many side effects like fatigue, nausea, vomiting, hairfall, skin disorder and more. But as per the researchers from healthline, Liquid chlorophyll can be used during the treatment of Chemotherapy which is upto two months, and It will boost the treatment to improvise the patient health upto 29 to 63 percent as it helps to heal damaged skin and prevent hairfall.