As fall begins and the weather changes, choosing clothes can become a daily struggle. This is especially true if you are the type of person who is always warm. If you work in an office or building where they crank up the heat on the first brisk day or if you live in a place with unpredictable fall weather, you could be in for months of uncomfortable temperatures. Dressing correctly during the transitional fall season when you're naturally warm can be difficult. Still, there are steps you can take to dress appropriately and comfortably, like dressing in layers or wearing scrub tops. Here is a guide to dressing well and staying cool when the weather turns cold.
Layer Your Garments
One of the easiest ways to prepare for fall weather is to dress in layers. This tactic can give you the flexibility to adjust your temperature by adding or removing pieces of clothing. There are several ways to layer, giving you lots of room to stay stylish no matter what you put on or take off. Consider wearing clothes that are layerable and adaptable. Wear a base layer that can be worn on its own, like a neutral-colored undershirt, t-shirt or tank top. Add a shirt that can be modified if necessary. A long sleeve shirt, button-down shirt or cardigan works well, as the sleeves can be rolled up or down and the buttons can be undone or buttoned up to control your temperature.
Choose a light outer layer that can be easily carried when not needed. A light rain jacket, zip-up hoodie or trench coat work well. Outerwear and jackets designed for athletic activities are ideal; these items often feature moisture-wicking fabrics, breathable mesh panels and adjustable collars or cuffs to keep you comfortable while your body is running hot.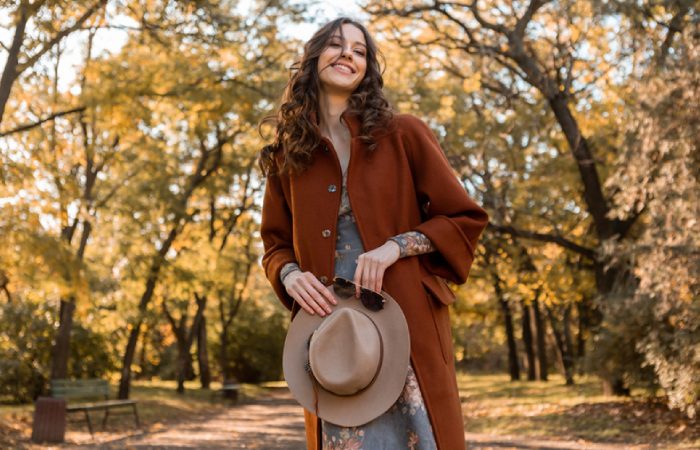 Mix Summer and Winter Clothes
While fall has a well-known color palette of rich browns, oranges and tans, many garments are made from heavier materials like wool, making it challenging to match the temperatures, particularly if you are a naturally warm person. Mixing lightweight summer clothes made from cotton, silk or linen and winter clothes to target specific body parts is a great strategy.
Wear shorts with warmer garments on top, like a sweater or jacket, if your legs are naturally warm. Wear warm pants with a t-shirt or light top if your torso is warm. If you wear scrubs for work and tend to overheat, consider wearing lightweight short-sleeve scrub tops and long scrub pants made of high-performance polyester blends to help regulate your temperature.
Use Breathable Materials
One of the best ways to dress for fall when you are always warm is to wear clothes made of breathable fabrics. These materials allow your natural body heat to escape and wick away any sweat or moisture on your skin.
Linen is a traditional material that has long been used as a breathable material in warmer climates. While more expensive than other materials, it is a comfortable option for people who struggle with feeling overly warm, and it is often very stylish. Merino wool is another traditional fiber that keeps you comfortable in variable temperatures. It has excellent moisture-wicking and natural anti-microbial properties that can help keep sweaty areas of the body feeling fresh and clean, no matter the temperature.
Many modern synthetic materials, like the blended fabrics used on many men's and women's scrubs improve the breathability and comfort of natural fabrics. Blends of polyester, rayon and spandex found in scrubs offer unparalleled comfort no matter the temperature. Their natural breathability and added stretch can help you stay cool and comfortable even if you are a naturally warm person.
Choose Comfort over Style
Fall can be a tough season to be both comfortable and stylish, so if you must choose, your comfort should come first. Clothes like lighter sweats, scrubs and full-length light athletic gear are all comfortable options this time of year. These clothes are made for activity and hard work, giving them extra comfort and temperature control. While they might not be the most fashionable, many brands make sweats, scrubs and athletic gear that is nice looking, neat and presentable in many circumstances, both professional and private.
Wear Cozy Clothes
The Danish have coined the term "Hygge" to describe the cozy warmth associated with fall and winter. Embrace this Scandinavian practice and wear PJs and comfy athleisure outfits in the fall to stay at a comfortable temperature. If you naturally run hot, choosing cozy clothes that match your natural body temperature will be a more comfortable option. PJs are naturally made to keep you comfortable as you sleep, often under thick blankets, and they use soft, breathable fabrics. If you are relaxing at home, working from a home office or running some quick errands, a pair of neutral-colored PJs can help keep your temperature comfortable.
Athletic training clothes can also be a cozy, temperature-friendly clothing option. Soccer training clothes, in particular, are made for running or intense athletic activity in cooler temperatures. Many have built-in mesh cooling vents and are made of breathable materials like polyester and spandex. Beyond being ideal for temperature regulation, these athletic clothes are often very comfortable. They are made to stretch and bend with body movement, and the material is soft on the skin. With the right accessories like a trench coat, fashion sneakers or gold jewelry, they are suitable to be worn in public yet cozy enough to be worn when relaxing at home.
Comfortable in the Fall
Fall is often one of the most beautiful seasons and is full of fun holidays like Halloween and Thanksgiving. For those who are always warm, it can be a difficult, uncomfortable time when no outfit seems to keep you at a good temperature. By layering, choosing temperature-friendly materials and wearing clothes that are geared for comfort, you can stay cool and get out to enjoy this beautiful season.