If you're taking care of family or someone close who needs support at home, finding the right help and assistance can be overwhelming. Fortunately, services are available to make this process easier. Enter Home Care Packages (HCPs).
An HCP is an Australian government-funded program offering support and aid to older individuals who want to continue living in their homes as they age. HCPs provide tailored funds that assist individuals with daily living tasks such as meal preparation, showering, and other household duties. They enable aging Australians to stay connected to the community by providing personalized care and flexible support options in their homes.
Steps For Applying For A Home Care Package
The process of entering an HCP involves several steps. It includes an assessment of the individual's needs and preferences, allocation of a package level based on the evaluation, selection of services, delivery of services, and regular monitoring and review. The HCP is a valuable resource for older Australians who want to age in place and receive the support they need to continue living in their own homes. Here's how it works:
Step 1: Assessment
HCPs allow older people to stay in their homes instead of moving into residential aged care. The placement process starts with the Aged Care Assessment Team (ACAT) assessment. This assessment evaluates the individual's care requirements, including physical and mental health assessments and any necessary medical interventions.
Based on the assessment results, the ACAT will make recommendations for the type and level of support the individual requires. This information determines the individual's allocation to an HCP level (level 1, 2, 3, or 4), corresponding to their level of need.
Step 2: Package Allocation
The Australian Government allocates HCPs to eligible clients who require access to aged home care services. As part of the assessment process, a current and comprehensive list of care needs is taken into account based on an individual's overall functioning level.
Depending on the identified level of support required, this could range from a lower-level basic care package to a high-level package providing greater complexity and multiple services. For example, a Level 4 package provides higher support than a Level 1 package.
Once a package has been assigned, each client will be free to decide how to spend their specific budget per their individual care needs and preferences.
Step 3: Service Selection
HCP allows individuals to choose the types of care services they wish to receive from a provider. The service selection process ensures individuals get the proper support and services to meet their needs. The process allows them to be independent and continue living in their own home. The services available under the HCP may include the following:
Personal care (helping with bathing, dressing, and grooming)
Home modifications (installing grab rails or a wheelchair ramp)
Meal preparation (assistance with grocery shopping or cooking)
Transport (assistance with getting to appointments or running errands)
Respite care (provides a break for the primary caregiver)
Domestic services (cleaning and laundry)
Nursing and clinical care (wound care or medication management)
Social support (help with hobbies or activities)
The individual has control over the services they receive. Not to mention they can change their services at any time. The approved provider will arrange for the delivery of the selected services, which the staff employed by the provider or contractors may provide.
Step 4: Care Delivery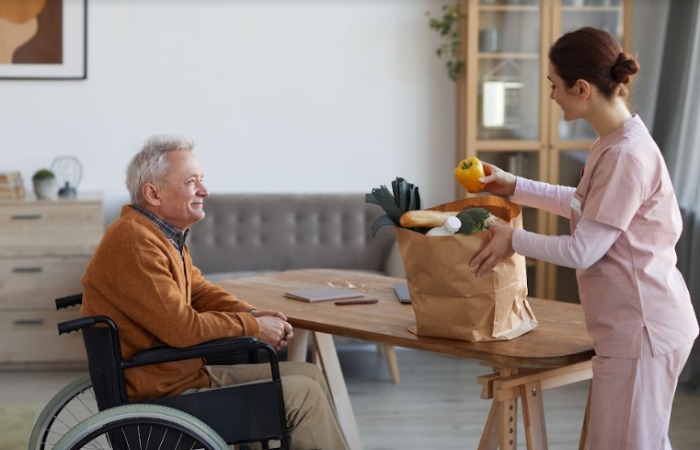 After individuals select the services they require, the care delivery process is the next step in the HCP program. At this point, the approved provider is responsible for arranging those services' delivery.
The provider will work with the individual to develop a care plan. After an established package, the client can modify or upgrade the plan to meet their requirements. This program provides invaluable assistance and peace of mind to those unable to manage alone. It proves that help is always available for those looking for it.
Note that the individual has the right to choose their approved provider and to change providers if they wish. The individual is also responsible for managing their package funding, which is paid directly to their approved provider to cover the cost of their services.
Step 5: Monitoring and Review
All HCPs include monitoring, support, and management provided by a case manager that regularly checks in on the client's health and well-being. They may implement further measures as part of this review, such as adjusting services included in the package.
This process is fundamental if any needs change or the client identifies new risks through these regular reviews. Ultimately, with this service in place, older adults can remain independent while having access to quality care when they need it most.
Conclusion
An HCP is a valuable resource for those requiring additional support in their daily lives. You must understand the services and the application process to get the most out of your HCP. Not only will this support reduce stress, but it may also provide additional independence and freedom from everyday life.
Remember to research the right package for you or your loved one and monitor the times and days these services are available. As long as you understand the structure of an HCP, you will have no problem using these invaluable resources.