Golden milk is a trendy Ayurvedic drink in the daily routine of anyone in India.
In recent years, western society has discovered multiple benefits that this ancient drink has for health, and its use has significantly increased.
I explain what golden milk is, its properties, and its traditional recipe.
Also Read: Tea Variants – Green Tea, Red Tea, Black Tea – Definition, Concept.
Golden Milk And Ayurveda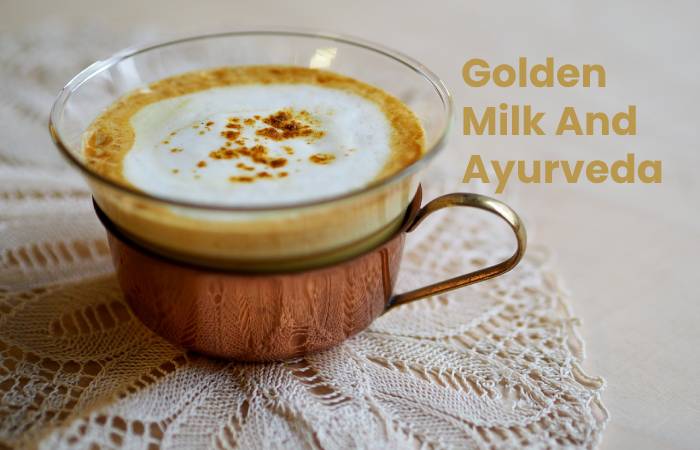 This drink has its origins in the ancient medicine of India.
Besides Ayurveda considers food our best medicine and best friend to be healthy.
For thousands of years, "golden milk" has been a drink present in every home in India, and its tradition has been passed down from generation to generation as a pleasure for taste and medicine for our being.
This drink, based on cow's milk, ghee, honey, turmeric, and other spices, is very beneficial for health.
Despite being an excellent food for the 3 doshas, we have to take into account what our Prakriti or combination of doshas are by nature and the imbalances at present to adapt their intake to our needs.
Have Excess PITTA: You can take it every day at any time, but it highly recommended that you have a cup at night.
If you have a very high level of Pitta, reduce the amount of pepper and ginger in the shot at night.
If you have excess VATA: You can take it every day at any time. It highly recommended that you have a cup at night as it will help calm the nervous system and promote sleep.
If you have excess KAPHA: You can take it but always before 6 pm and better if you do not add ghee. If you have a high level of excess Kapha. So to reduce the intake of dairy and ghee to regulate your levels of said dosha.
Recipe
2 cdt ghee (if organic better).
1 cdt turmeric (powder).
1/2 tsp ginger powder or a piece of fresh ginger.
2 pinches of ground black pepper (freshly ground).
2 pinches of nutmeg (freshly grated).
1 cdt of raw honey.
2 glasses of fresh cow's milk.
1/2 tsp ground cinnamon.
Place the ghee in a saucepan over low heat. When melted, add the turmeric and let it melt with the ghee.
Add the ginger, pepper, nutmeg and once it is well integrated, add the milk and bring it to a boil. Remove from the heat and wait for the drink to be warm before adding honey to it (never add honey to a hot drink, first let it soften a bit).
Sprinkle with cinnamon and enjoy this drink, which. In addition to being medicinal and having many beneficial properties for our body is excellent!
It can make with plant-based milk such as coconut milk, oatmeal, soy, almonds. But the benefits will not be equal to the original combination with cow's milk.
Properties Of The Golden Milk
It has antioxidant, antiseptic, and analgesic benefits.
Strengthens the immune system.
It has anti-inflammatory power and reduces joint pain.
Supports digestive health.
It helps serotonin segregation by improving mood.
Prevents hair loss and improves overall hair health.
Helps calm the nervous system.
If you take it before bed, it helps you to have a restful sleep.
Ideal for brain health and good memory.
Acts very positively on skin health.