It is impossible to quit smoking in a short period; it takes time. In terms of habits, people are continuously looking for solutions to aid them. Fortunately, e-cigarettes are available to assist individuals in kicking their smoking habit with minimal influence on their overall health. Thus, this article will give you light on tobacco e-liquids.
Tobacco E-Liquids
The tobacco plant is currently a member of the nightshades or Solanaceae. And when tobacco is cured, it can be utilized for smoking. Despite the related health hazards, tobacco smoking is largely tolerated around the world. Nowadays, however, smokers may get the same effect from vaping tobacco-flavored e-liquids as they would from smoking conventional cigarettes.
To enhance the vaping experience, vape makers have produced a variety of enticing tobacco-flavored e-liquids. It's because of some vapers like the natural scent and flavor of pure tobacco in e-liquids. And with naturally extracted tobacco e-liquids, you may experience the full flavor of tobacco without worrying about your health. Ultimately, they're acclaimed for their extraordinary creativity and originality, which they're worth trying.
There is an extensive selection of tobacco-flavored e-liquids; you may choose them based on their aroma and the ways they let you inhale, unlike ordinary cigarettes. Due to the lack of serious health risks associated with these products, people may enjoy a healthier life without sacrificing happiness.
Good Things To Know About Using Tobacco E-Liquids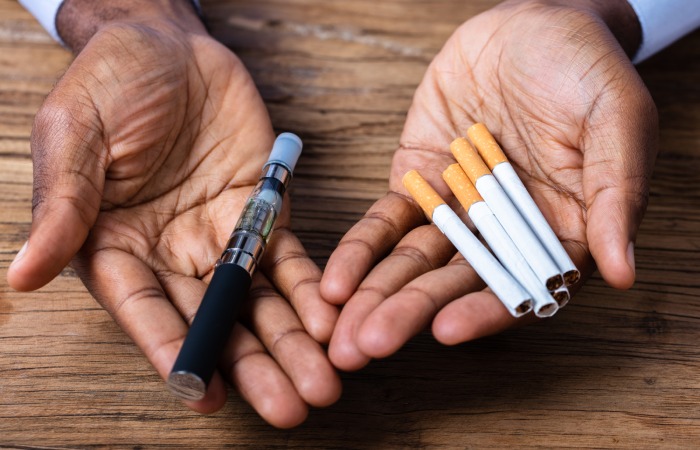 Even though tobacco-flavored e-liquids don't taste precisely like cigarettes, there are several reasons to use them when you first begin vaping. Below, explore how tobacco e-liquids currently on the market have a positive role in helping people quit smoking and enjoy vaping.
1. They Help Users Stick To What They're Used To
It is not always simple to move from smoking tobacco to vaping. In addition to getting acclimated to vaping and working on getting used to your new device, a variety of tastes might make it difficult to acclimatize. The good thing is that tobacco-flavored e-liquid helps you stick with the scent and aroma you're used to. While it's not precisely the same as smoking cigarettes, the comparable taste may make it easier for you to persevere with the change.
2. The Variety Of Available Flavors
When it comes to e-cigarettes, you may choose from a variety of tastes. You may pick from various tobacco flavors, such as tobacco blended with caramel, peppermint, or even sweet flavors, if you prefer other flavors or want to add something new to your smoking experience.
3. There Are Various Levels of Nicotine
There is a variety of nicotine intake provided for tobacco-flavored e-liquid. It makes it easier for you to switch from smoking and progressively lower your nicotine consumption over time to prevent symptoms of withdrawal and quit smoking cigarettes more easily. Since vape juice does not include harmful substances like tar and carbon monoxide, there is less cause for concern when it comes to obtaining nicotine through vaping.
4. You Can Purchase Them In A Snap
Tobacco-flavored e-liquid is readily available in the bulk of shops that sell e-liquid. After all, it's the most accessible flavor option. Whether you're looking for your regular brand or just want to start stocking up if you run out hastily, you can find a tobacco choice almost everywhere. Whether you visit online vape retailers, specialized vape stores, pharmacies, or petrol stations with vape sections, tobacco-flavored e-liquids will always be available.
5. Suitable For All Vaping Set-Ups
There is a tobacco taste for every type of vape set, which is another reason why tobacco e-liquid is an excellent option. Whether you're using a pod vape or a bigger mod, tobacco-flavored e-liquids are one of the most preferred vape juice flavors, particularly those new to vaping. Regardless of the type of vape you've purchased; you'll be able to discover a tobacco-flavored e-liquid that complements it properly.
Final Thoughts
If you are transitioning from smoking cigarettes to vaping, one of the most important decisions you will likely confront is choosing the flavor of vape juice. New vape users accustomed to a restricted selection of cigarette flavors may feel overwhelmed by the wide variety of e-liquid flavors available today.
Luckily, new users can stick to tobacco-flavored e-liquids. Compared to other e-liquids, the flavor and quality of vape juice made with organically extracted tobacco are unmatched. Plus, nicotine hits from organically derived tobacco are comparable to those from smoking cigarettes. Indeed, they're highly advantageous to those seeking to quit smoking actual tobacco progressively.
Natural flavor extracts provide e-liquids with a more authentic and stronger flavor that brings them to life. If you value originality and organic ingredients, then you'll like e-liquids manufactured from tobacco that has been organically extracted.